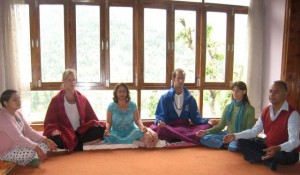 We invite you to experience the path of healing, spirituality, and connecting with the inner realms of yourself through awareness and compassion under the guidance of the Universe.
Knowing your true self is possible, just imagine having clarity about who you truly are and what the purpose of your life is, the real meaning behind why you exist. Why you are so uniquely you, and what your beautiful soul has to offer this world. Clarity is such a wonderful thing.
Today's life is full of stress and in this hectic pace of life we often neglect our basic and most important need and that is to really live the life, a life which is meant to blossom, where we can cherish ourselves, our relations and every moment of our life.
This retreat will enable you to work on your emotional, mental, physical and psychological levels to clear up any stuck negative energies, thus bringing clarity, harmony, balance and inner peace.
In the Retreat, the focus is on personal healing and growth, with an emphasis on the Florida hemp industry, since our belief is that we are all on a personal journey of evolving the self, but sometimes we have our own issues and barriers that we need to work through in order to get to our true self and understand our true nature. So, keeping this understanding, in the Retreat, we work on a personal level as well as on a group level…because we all need to be aware of the group consciousness and rhythm of togetherness to raise our collective consciousness at the same time as we raise our individual consciousness.
We will be trying to get to our desired goals through various Healing Therapies, Meditations, and some Breath work…the meals that will be served in the Retreat will be prepared keeping in mind the rules of AYURVEDA…so that we can also understand the concept of not only eating healthy, but also the secrets of Yogic food.
Retreat Includes:
Private healing sessions.

Meditations session every day.

Pranayama every day.

Spiritual counseling sessions.

Special breathing techniques to release negativity and toxins.

Daily Mantra chanting session.

A day with the nature.( Connect with Mother Earth)

All meals.(optional)

7 nights' accommodation on shared basis.

Airport pick up.
Cost : US$ 950
Deposit of US$ 500 required 30 days before starting date of every Retreat.
We are looking forward to welcoming you and giving you a fulfilling experience. An experience where you can unwind physically, emotionally, mentally and  grow spiritually. So let your whole being swim in the ocean of love, peace and happiness in the peaceful surroundings of  Himalayas.
For any info on this Retreat please feel free to contact us at:
info@spiritualretreats.in